This Spicy Ground Turkey & Cabbage Stir Fry Meal Prep is a flavorful mix of ground turkey, ginger, garlic, chili sauce, fresh cabbage, and carrots. Served over your favorite kind of rice for the one of the easiest meal preps ever!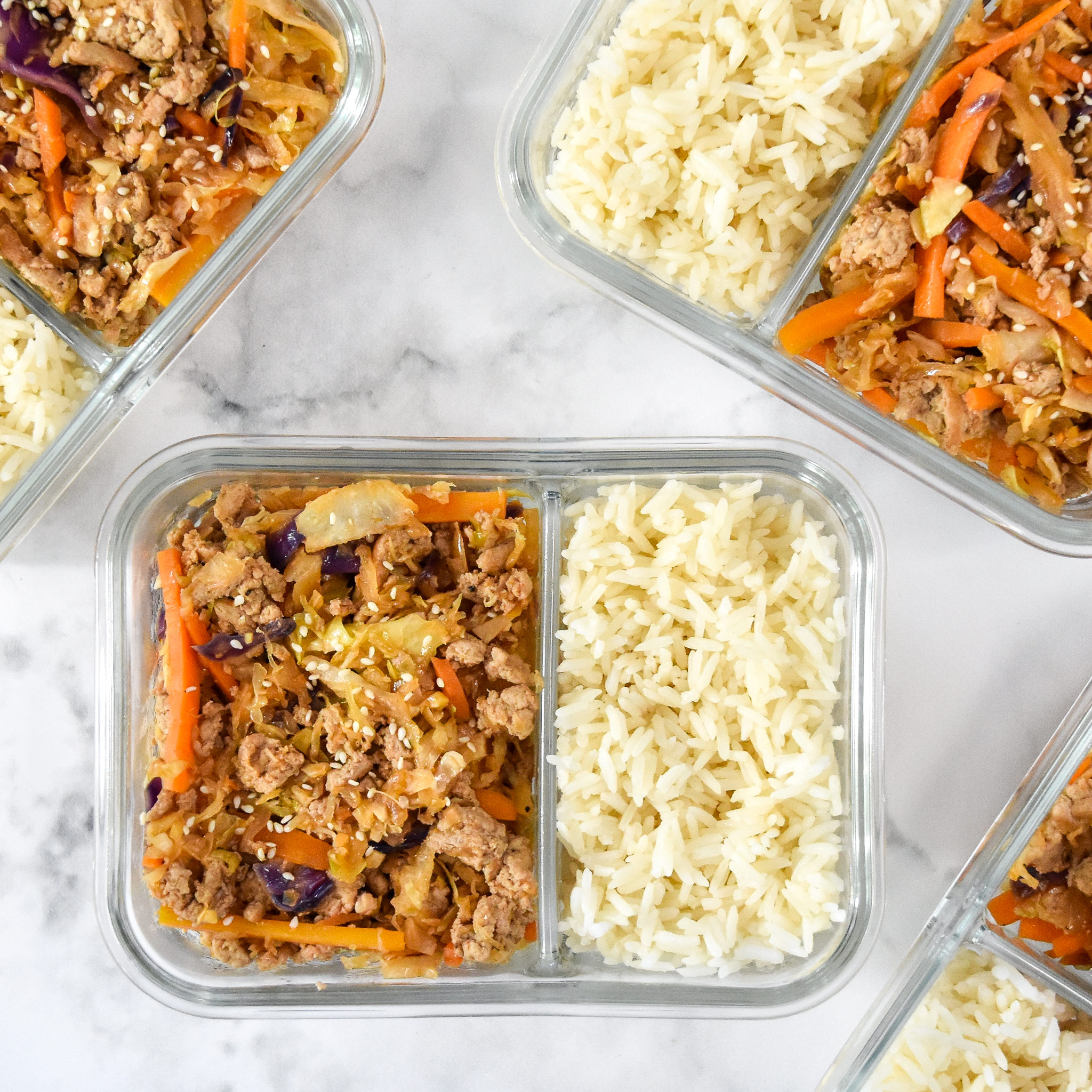 Before I started really cooking for myself at home, I would have never guessed ground turkey could be so versatile. I wasn't a beef eater and somehow I was still oblivious to the fact that ground turkey worked for more than just a ground beef substitute in tacos.
Turkey burgers are a great idea too. One of the very first recipes on Project Meal Plan were these Feta Basil Turkey Burgers. After that came the Smoky Green Bean Turkey Skillet, and then later, some Spicy Baked Turkey Spinach Meatballs.
Ground turkey is incredibly easy to cook with. For example, these Homemade Ground Turkey Sloppy Joes or Best Ground Turkey Breakfast Sausage Patties are so easy and delicious. Have I blown your mind with all the ground turkey possibilities?? Okay I'll stop – after this new stir fry recipe!!
Maya, in the comments, says:
"Excellent!! The Pinterest recipe I've made the most cause it's my kid's favorite (minus the hot sauces)"
This is the Spicy Ground Turkey & Cabbage Stir Fry Meal Prep. No special equipment is required for this easy dinner recipe – anyone can make this with just a big pan on the stove!
Recipe Overview
Total Time: 50 minutes
Difficulty: Easy
Method: Stovetop
Prep: Make-Ahead Friendly
Ingredients in this Spicy Ground Turkey & Cabbage Stir Fry Meal Prep
The ingredients in this recipe are relatively simple – I bet you can find most of them in your pantry, and the rest easily at your regular grocery store.
Here are the ingredients I used, along with possible substitutions and options:
rice + cooking liquid – For this meal prep, I like to pair with white rice and let it cook in the Instant Pot while I'm working on the rest of the dish!
soy sauce – This is the base of our sauce! You can use low sodium if you'd like.
sesame oil – I love the taste of sesame , and the background nuttiness it brings.
chili garlic sauce & sriracha – These are what make the spicy stir fry spicy! I love using chili garlic sauce because I love the added garlic flavors with the spice.
avocado oil – I prefer to use avocado oil for most of my cooking, but you can use olive oil.
ground turkey – I use 93% lean, but you can use any ground meat you have. I've heard success with ground pork and ground beef as well.
onion powder – You can use onion powder or cut up a little bit of fresh yellow onion and stir fry with the carrots and cabbage.
fresh garlic & ginger – Using fresh garlic and ginger for this recipe really help give the best flavor!
small head of cabbage – Look for the smallest head of cabbage you can find, or a half! The easier alternative is grabbing a big bag of shredded cabbage and carrots so you can skip the shredding. I've done both and each method works great!
carrots – I love adding additional carrots for a little more bulk here.
salt & pepper – Season as you go with fine sea salt and fresh ground black pepper.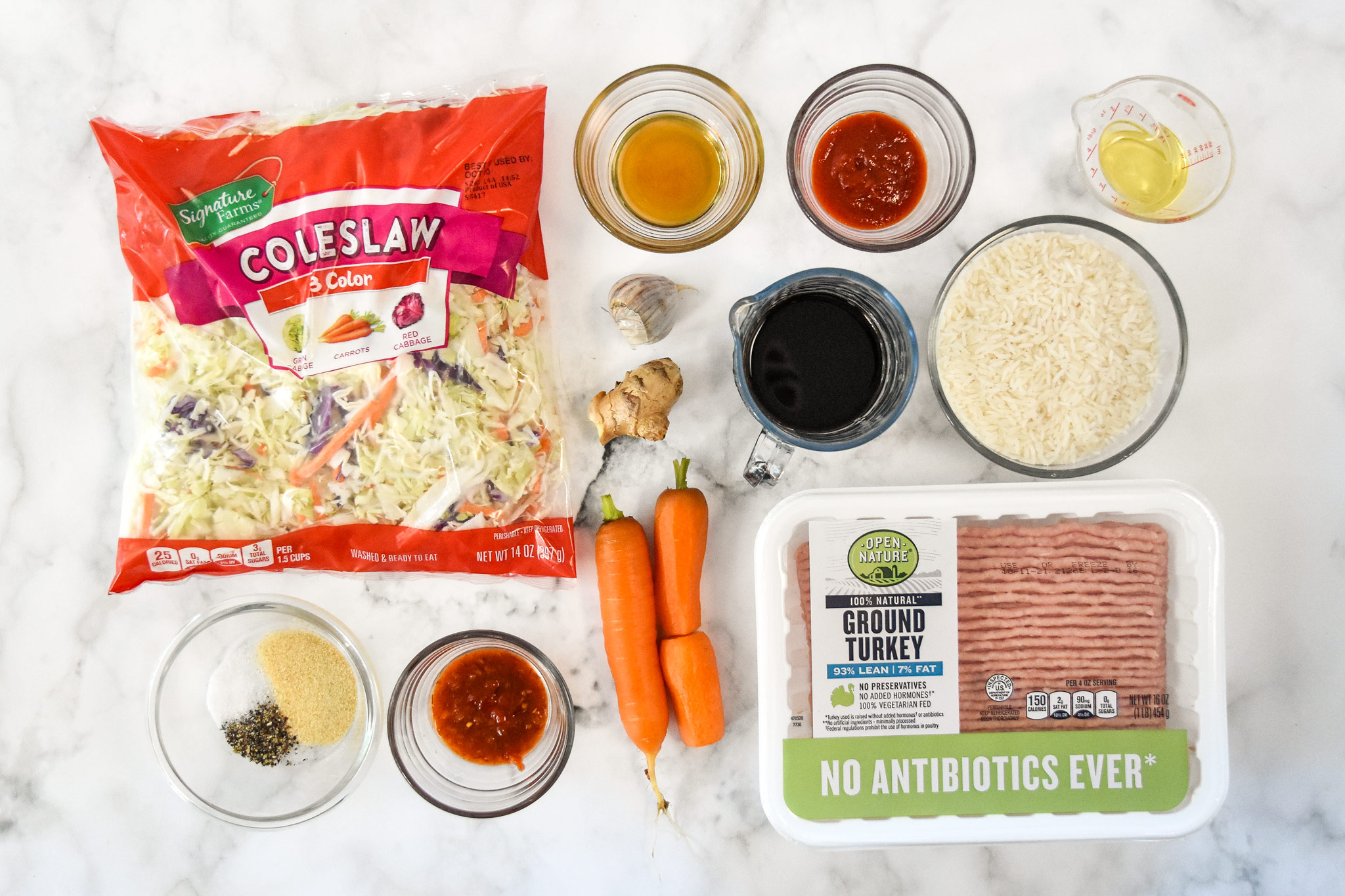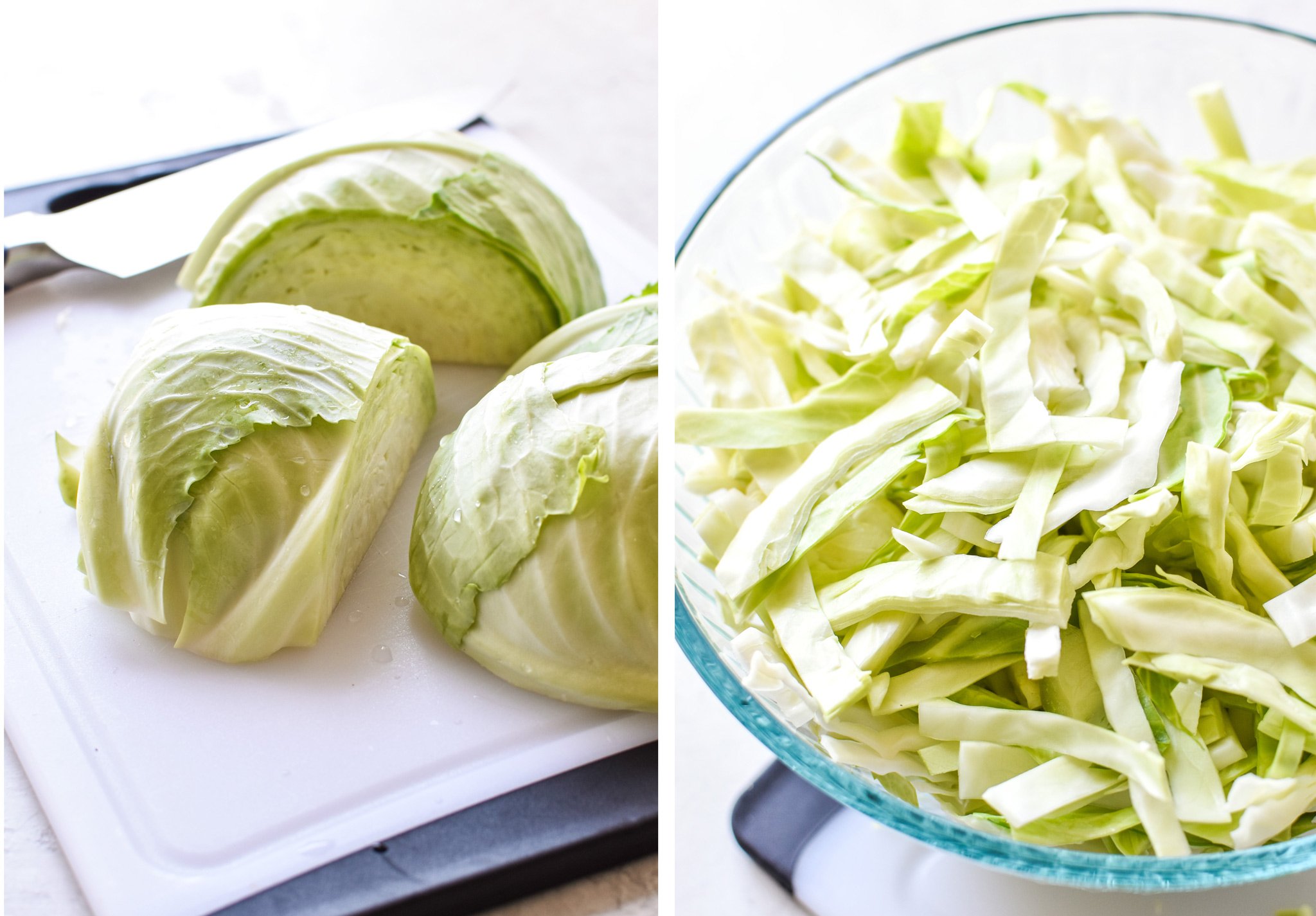 Can I use another ground meat instead of turkey?
Sure! This recipe would be delicious with virtually any ground meat. Readers have reported success with ground pork. I've made this exact recipe with ground beef and it was also delicious.
Try ground chicken, and let me know how it is! I'm thinking that would almost taste like a chicken egg roll in a bowl? Yum!!
Do I have to chop up a whole head of cabbage?
No, you totally don't. If you're feeling lazy, buy a 16 ounce bag of shredded coleslaw mix with green cabbage, red cabbage and some shredded carrots, OR just plain shredded green cabbage.
This tends to be a bit less cabbage than a small head shredded, but it works just as well. I would still add the extra carrots even if you buy a mix with some inside.
I've done both methods, and you can see photos of both pre-shredded and whole head cabbage in this post!
How much shredded cabbage is in one head?
For this recipe, I recommend purchasing the smallest head of cabbage you can find – generally around 28 ounces is considered a small head of cabbage (32 ounces is medium, 39 ounces is large).
According to the How Much Is In produce converter, one medium sized cabbage gives you about 8 to 8.5 cups of shredded cabbage. A smaller cabbage would give you maybe 7 cups of shredded cabbage. Anywhere from 6-7 cups of shredded cabbage would work for this recipe.
The cabbage will reduce down to about half the size when cooking is complete.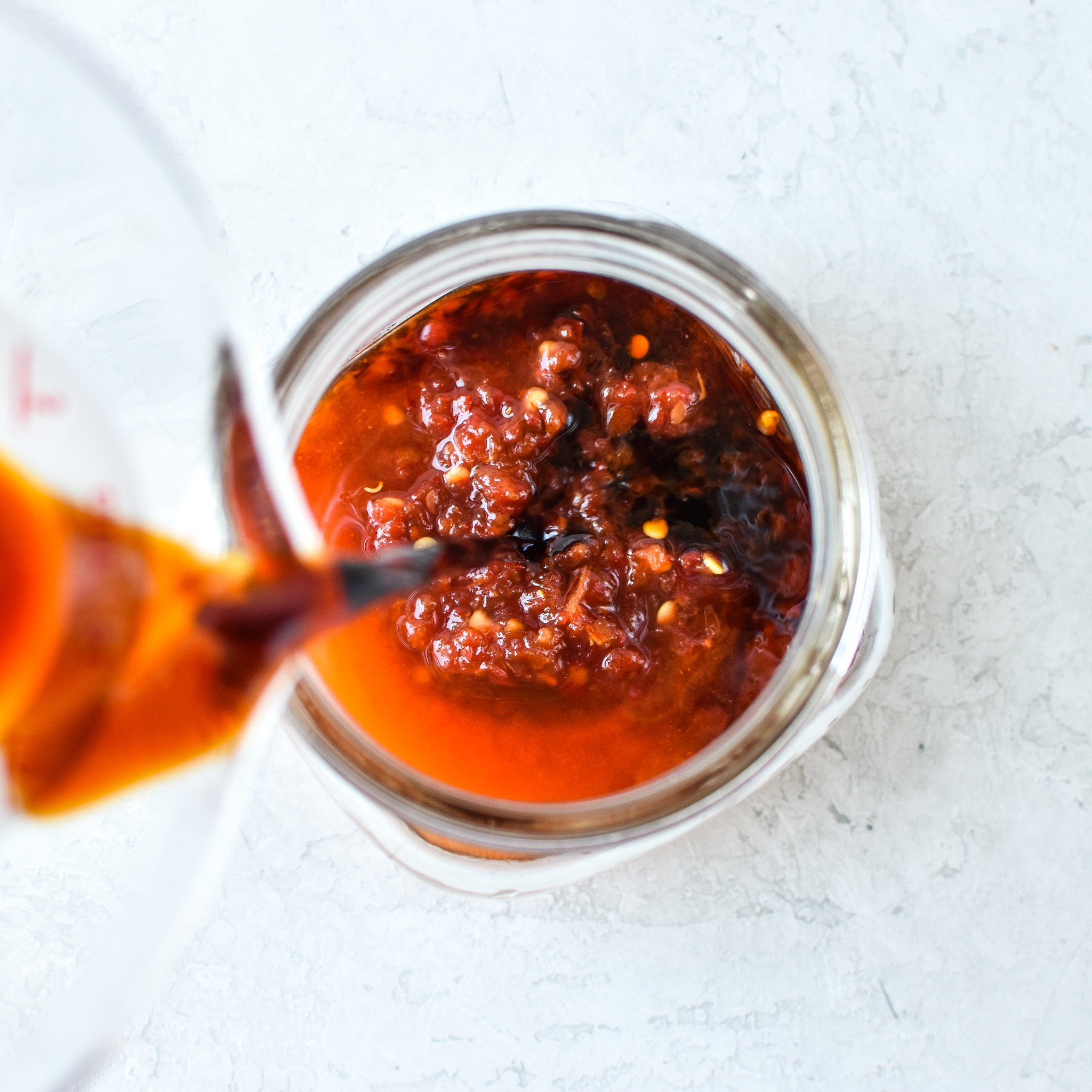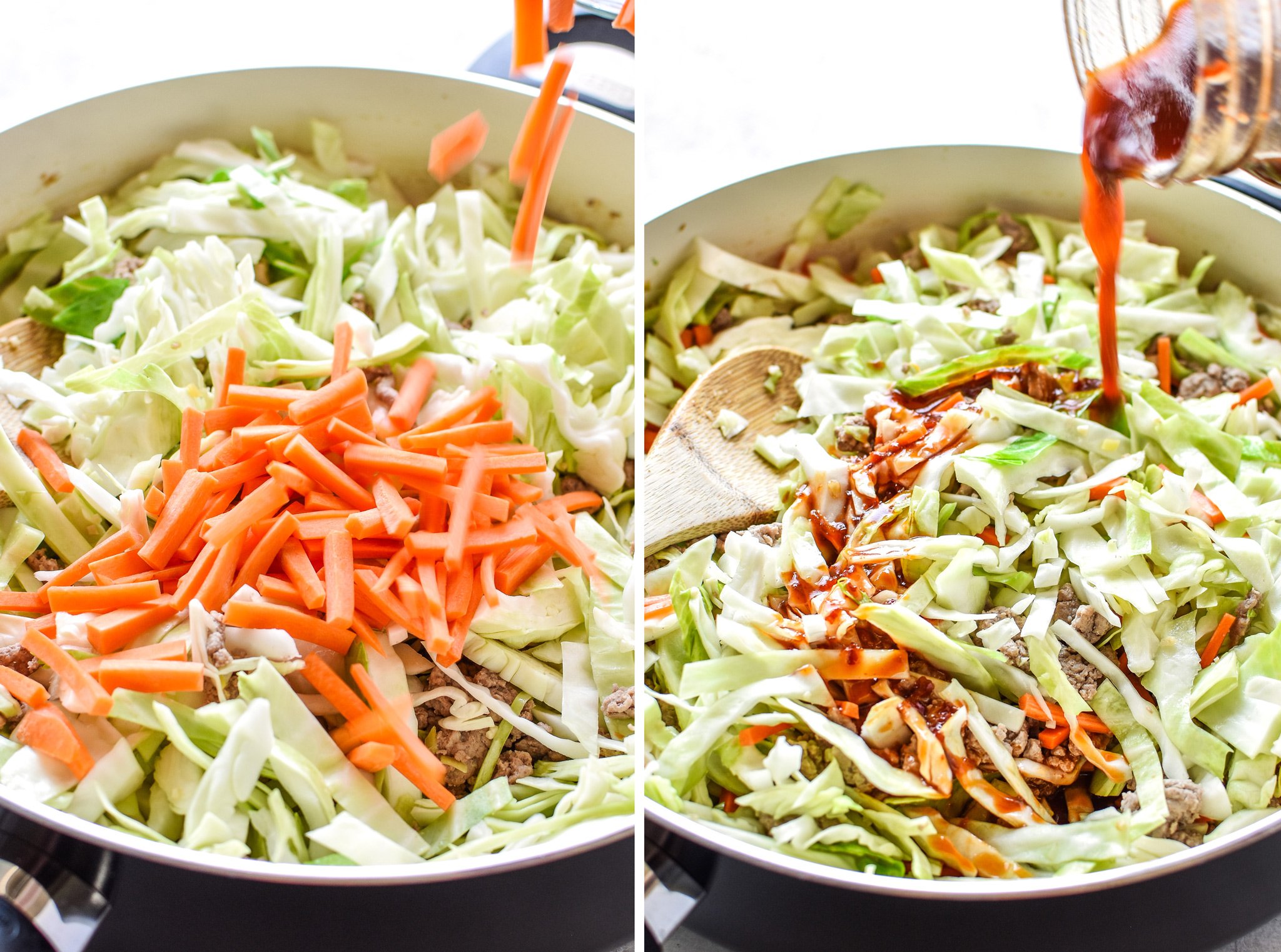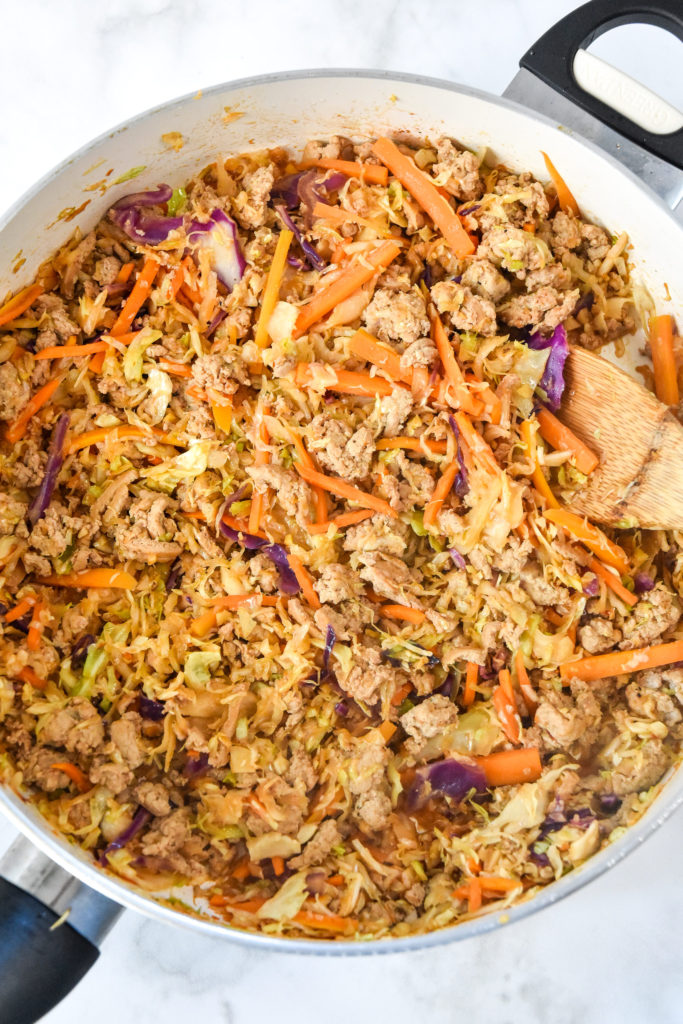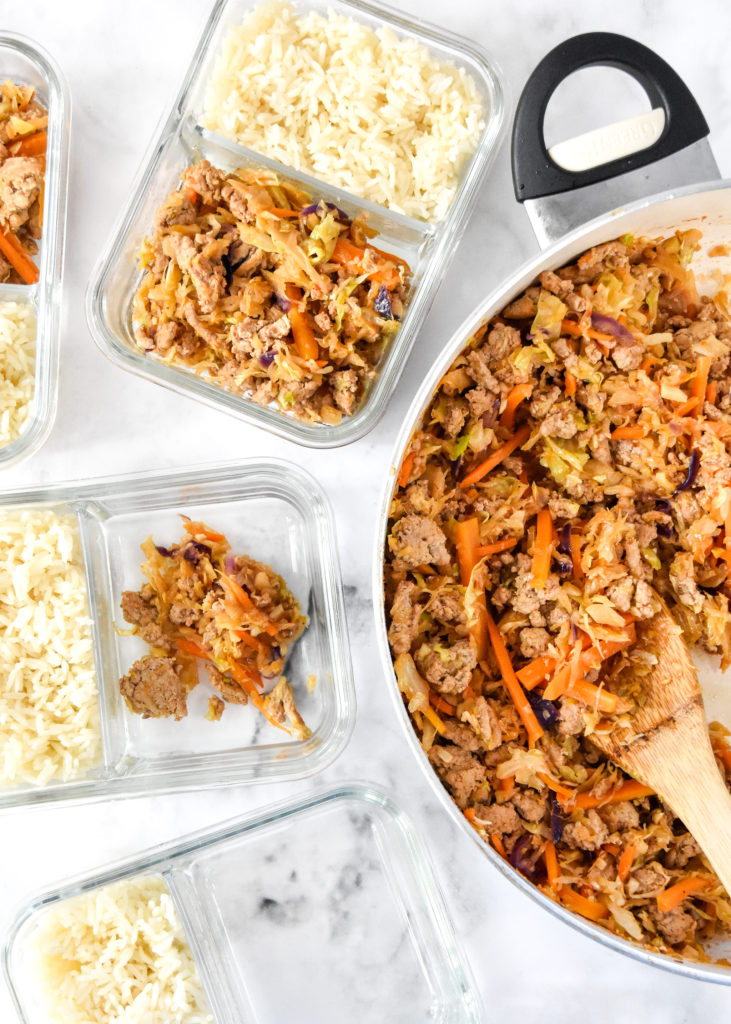 How to meal prep it:
Before you get going with this recipe, make sure you've got some reliable meal prep containers. They should be airtight, and preferably glass.
Decide how much rice you want in your meal prep. Rice generally triples in volume when cooked. 1 cup of dry rice will equal about 3 cups cooked. This recipe calls for 1 1/2 cups of dry rice, equaling 4 1/2 cups of cooked rice. Each serving will have just over 1 cup of rice. If you want less calories, reduce the amount of rice included with each portion of meal prep.
After all the components are cooked, let them cool separately, then add an equal portion to each meal prep bowl. This recipe makes four generous helpings of the cabbage stir fry, so be sure to use containers that will fit all ingredients (the containers linked above work very well). Make sure all lids are secure and airtight.
Keep refrigerated and eat within 4 days. I think this meal prep tastes better as leftovers! Do not freeze this meal prep, as the cabbage would not do well after being thawed.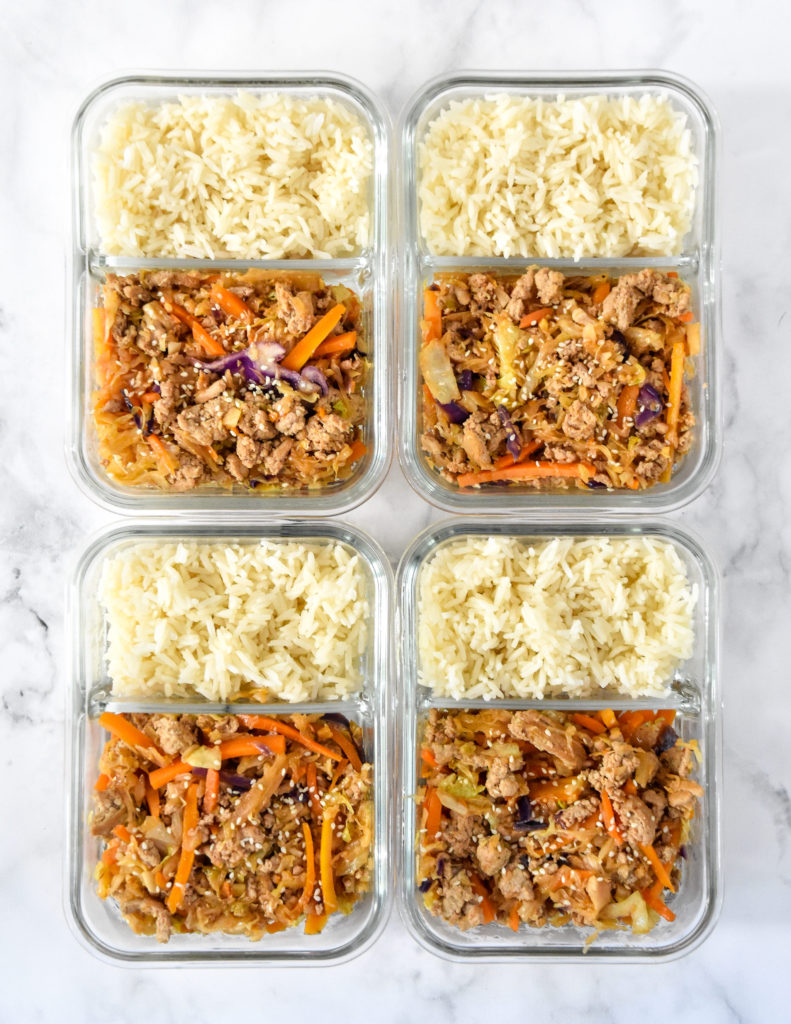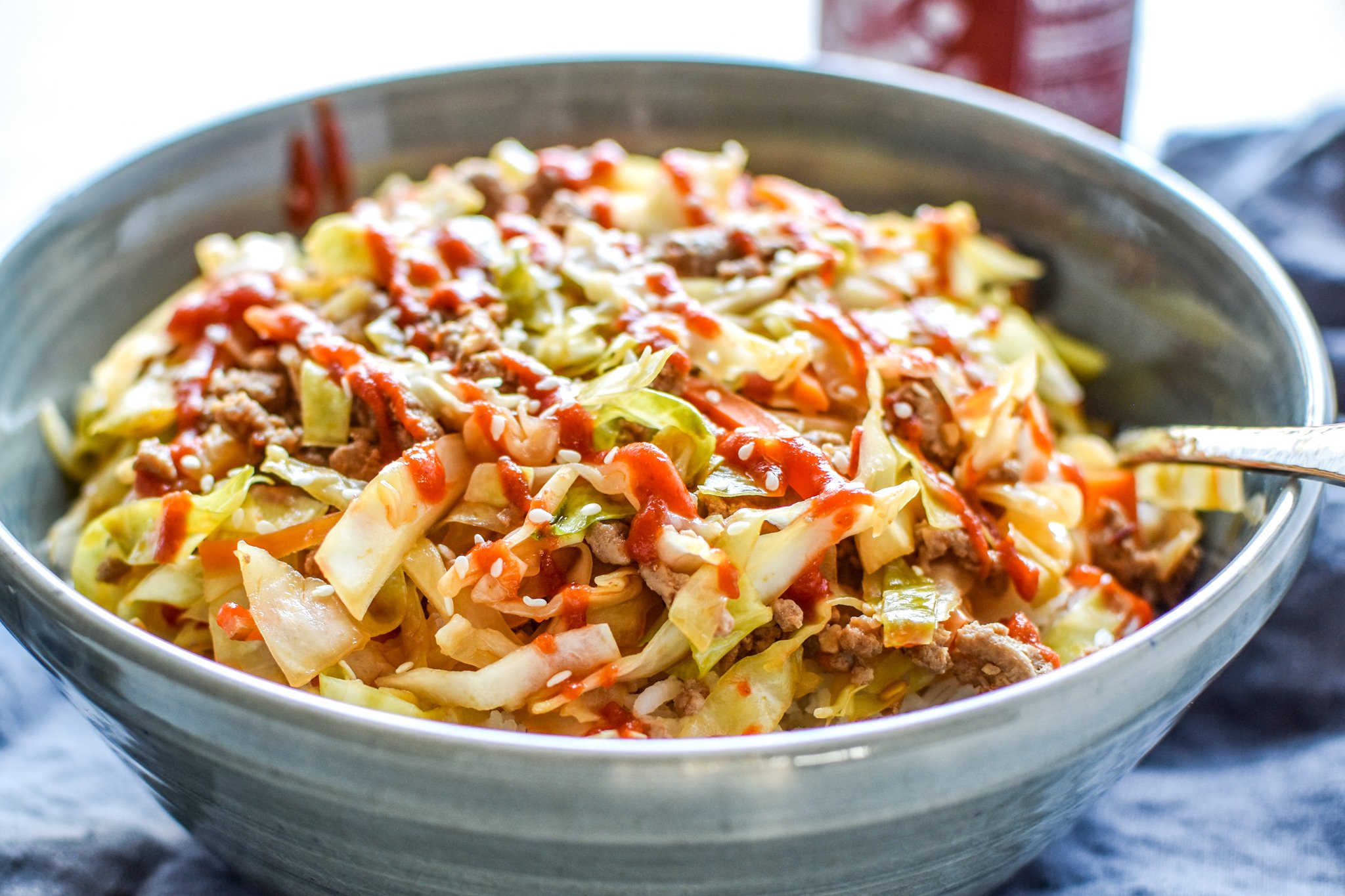 How to store this stir fry meal:
Store pre-portioned meal prep meals in airtight containers in the fridge for up to 4 days.
How to freeze this stir fry meal:
I would not recommend freezing this meal, as the cabbage will most likely lose it's texture upon reheating.
How to reheat this stir fry meal:
Reheat loosely covered in a microwave on High for 90 seconds to 2 minutes. Alternatively, this meal would be delicious reheated with a HotLogic Personal Portable Oven (affiliate link!).
How to Make Spicy Ground Turkey Stir Fry Meal Prep Video (1 min 30 secs):
Recipe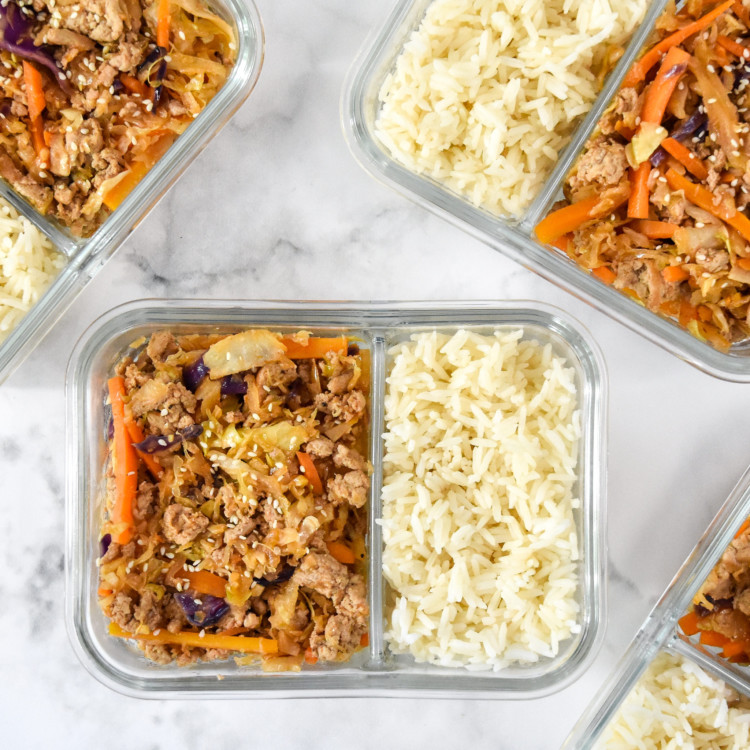 Spicy Ground Turkey & Cabbage Stir Fry Meal Prep
Yield:
4

generous portions

1

x
Prep:
5 minutes
Cook:
45 minutes
Total:
50 minutes
This Spicy Ground Turkey & Cabbage Stir Fry Meal Prep is a flavorful mix of ground turkey, ginger, garlic, chili sauce, fresh cabbage, and carrots served over your favorite kind of rice for the easiest meal prep I bet you've never tried!
Ingredients
1/3 cup

soy sauce (or liquid coconut aminos)

1 tablespoon

toasted or untoasted sesame oil

1 tablespoon

chili garlic sauce (I use Huy Fong Chili Garlic Sauce

(affiliate link!)

)

1 tablespoon

sriracha hot sauce

1 tablespoon

water

1 1/2 cups

uncooked rice of choice + cooking liquid

1/2 tablespoon

olive or avocado oil

1

pound ground turkey meat (I use 93% lean)

1/2 teaspoon

onion powder

1/2 tablespoon

minced fresh garlic

1 tablespoon

minced fresh ginger

1

small head of cabbage, cut into fine shreds (OR a bag of coleslaw mix – SEE NOTE)

2

small-medium carrots, cut into 1 inch matchsticks (julienne)
salt/pepper for seasoning
Instructions
Prep sauce & start rice: Combine soy sauce, sesame oil, chili garlic sauce, sriracha, and water in a mason jar with a lid and shake until well mixed. You can also whisk ingredients together in a small bowl. If serving with rice, start that now! I use my Instant Pot to cook white jasmine rice in broth while I cook this meal on the stovetop.
Cook the meat: In a large deep non-stick skillet or Dutch Oven, heat oil over medium heat. When hot, add ground turkey meat. Add onion powder, and season with salt and pepper. Use a wooden spoon or spatula to break the meat into small pieces as it cooks. Cook the meat for about 5 minutes or until cooked through, stirring occasionally.
Add veggies & sauce: Add garlic and ginger to the pan and stir for about 20 seconds until dispersed. Next, add shredded cabbage and carrots. Give the sauce a quick stir, add it to the pan and stir thoroughly. As the mixture cooks, the cabbage will reduce to about half its size. Reduce heat to low and cook for another 5-10 minutes, depending on how wilty you like your cabbage.
Serve & store: Remove from heat and serve over rice – top with additional sriracha or cilantro if you want. If meal prepping, portion rice and cabbage into 4 airtight meal prep containers and store in the refrigerator for up to 4 days.
Notes
CABBAGE NOTE: If you are shredding your own head of cabbage, please purchase the smallest one you can find! Small is generally 28 ounces or less. If you go with a medium or large cabbage, please use only half the head and save the rest for another recipe. ALTERNATIVELY, grab a 16 ounce bag of pre-shredded coleslaw mix and use that instead. This will give you a bit less cabbage than a small head would, but that's okay. You want around 6-7 cups shredded cabbage total.
Recipe adapted from Beef and Cabbage Stir Fry by Budget Bytes. Nutrition information estimated with My Fitness Pal and includes just over 1 cup of rice per serving.
Nutrition Information
Serving Size:

1/4 of recipe

Calories:

516

Fat:

18g

Carbohydrates:

64g

Protein:

29g
Recipe Card powered by