There are so many kitchen gadgets and appliances out there – but which ones will actually be useful in your kitchen? After years of meal prepping, I've picked out the tools I use on repeat every week when I meal prep. Here are my Top 5 Favorite Meal Prep Tools I Actually Use Every Week!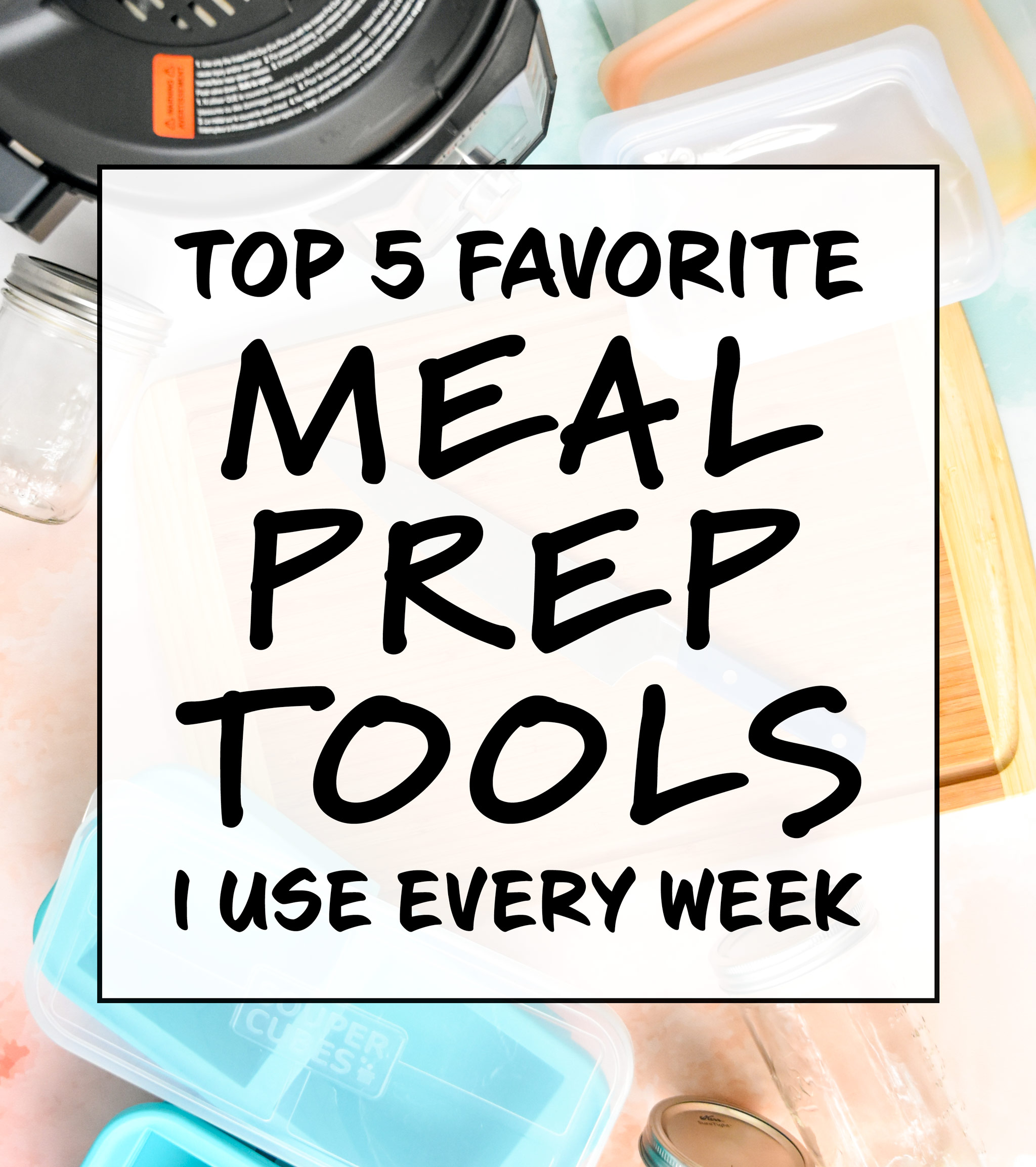 What is Meal Prep?
Meal prep is any preparation of your food that is done ahead of time and saves you time later. Any amount of prep at any time counts. It can be your whole week of meals or just pre-cutting your veggies.
Meal prep does not necessarily mean preparing entire meals, though that is usually the case. Anything that saves you time counts as meal prep.
The best part about meal prep is you get to decide how it works for you. There are unlimited recipes and ways to prepare meals ahead of time in your kitchen.
What is a Meal Prep Tool?
A meal prep tool is any piece of equipment that makes preparing food easier or saves you time during or after your meal prep session.
Your oven is a meal prep tool. Your cooking spatula is also a meal prep tool. Your compost bin is a meal prep tool.
It's a broad definition, but that's because there are so many different tools and appliances out there that can help people in different ways. The hardest part can be navigating all the mediocre tools to find the most helpful items.
The Most Basic & Necessary Meal Prep Tool
The most basic and necessary meal prep tool you should own before starting your meal prep journey are airtight containers. No matter how you prepare your food ahead of time, you'll need a container to store it in.
Meal Prep Container Recommendations
In my opinion, all containers should be completely airtight, made of glass, and they should be freezer, oven and dishwasher safe for maximum benefits. Here's my full list of container recommendations for meal prep!
If you're starting from scratch, my suggestion is to think about your meal prep goals first.
If your goal is to take individual meals to work or school, look for 3- or 4- cup containers. Some containers have compartments and some don't, so you'll have to decide what you want.
I love these 2 Compartment Glass Meal Prep Containers (affiliate link!), and I've been eyeing these Rubbermaid Brilliance Glass 3.2 Cup Containers (affiliate link!), but I haven't tried them yet!
If your goal is to prepare ingredients for future meals (like a buffet style meal prep!), a more varied set of different sized containers might be best, such as this 24 piece Glass Container set from Bayco (affiliate link!). I always like Pyrex brand containers – they usually have sets at my local Target for a good price.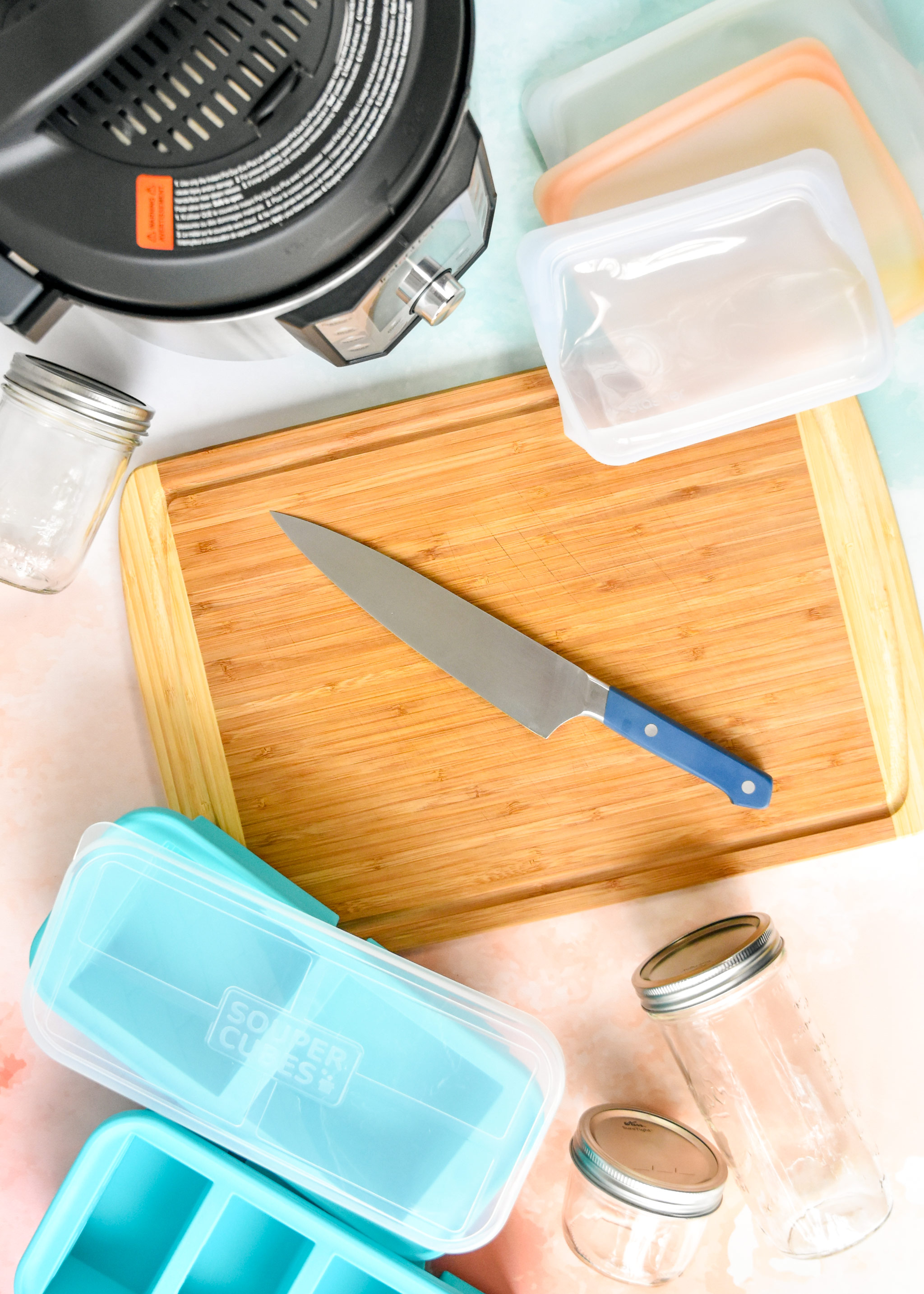 How To Get Started With Meal Prep
If you're just getting started with meal prep, I would suggest checking out my post called 10 Steps of Meal Prepping: Recipe Ideas for Beginners. In that post, I walk you through an easy progression of meal prep ideas and recipes.
Essentially, my advice is to start slow and don't get overwhelmed. Pick one recipe or food item you know you like, but instead of eating it right away, use airtight containers to portion it out and store in the refrigerator for later.
Most foods will last up to 4 days in the refrigerator in airtight containers. And there you go, you just meal prepped!
Now that you have a basic definition of meal prep and meal prep tools, I want to share my Top 5 Favorite Meal Prep Tools I Use Every Week!
My Top 5 Favorite Meal Prep Tools I Use Every Week
#1. Sharp Knife & Cutting Board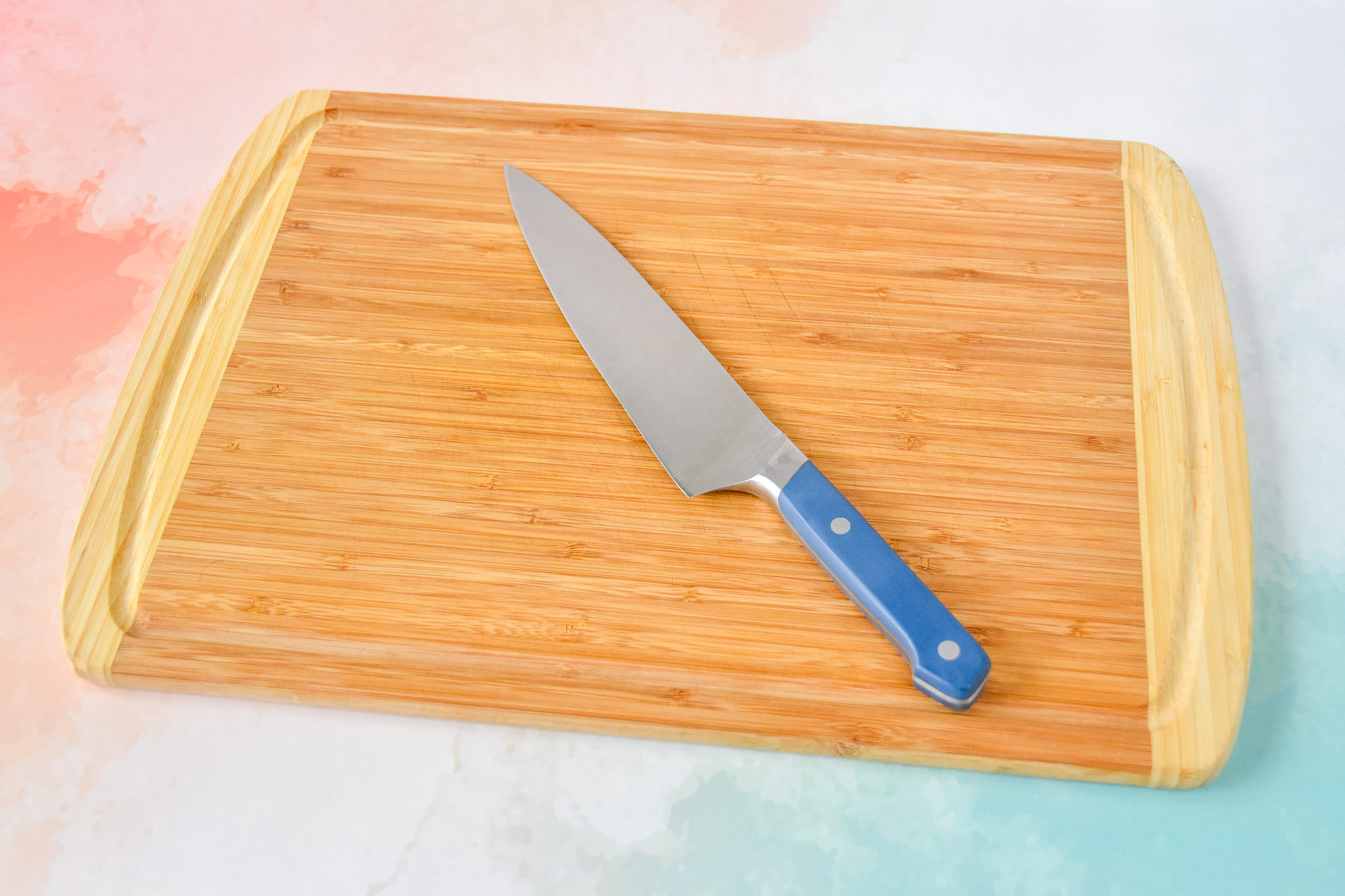 What is it: First of all, I consider a sharp knife and a good cutting board to go hand in hand, since you should use a cutting board anytime you cut with sharp knife. A sharp knife and cutting board are absolutely the most important and versatile tools you can have in your kitchen.
For my chef's knife I use almost daily, I use this Misen Chef's Knife (affiliate link!). I absolutely love this knife and I think it's the most affordable option available for a good chef's knife. At only $65, the price tag is much better than other knives out there, and the quality is superior.
For my cutting board, I've been loving this Greener Chef XL Bamboo Cutting Board (affiliate link!). Wood is the most environmentally friendly cutting board material, and it's also the most gentle on your knives.
Why it's great for meal prep: It doesn't matter if you're a meat-eater, a vegetarian, a pescatarian, or an anything else eater – a sharp knife will help you be safer and more efficient in the kitchen.
Cutting, slicing, dicing, chopping, are all important ways to prepare different foods, whether you're preparing them for now or later.
To improve your knife skills and knowledge, I absolutely recommend this free resource from The New York Times on Basic Knife Skills. Tons of helpful videos and information!
Recipes ideas & examples:
Simple Whole Roast Chicken – This is a great example of how the knife is used in preparation, as well as after cooking. Use your sharp knife and cutting board to prep all the veggies, then after cooking, use your knife to help carve the chicken for serving and storing.
Chipotle Ground Turkey Skillet Meal Prep – This meal prep recipe has tons of veggies that need a good round of chopping and dicing.
Homemade Bacon Bits – A sharp knife is vital to making homemade bacon bits! And yes, this is meal prep (ingredient prep!).
#2. Instant Pot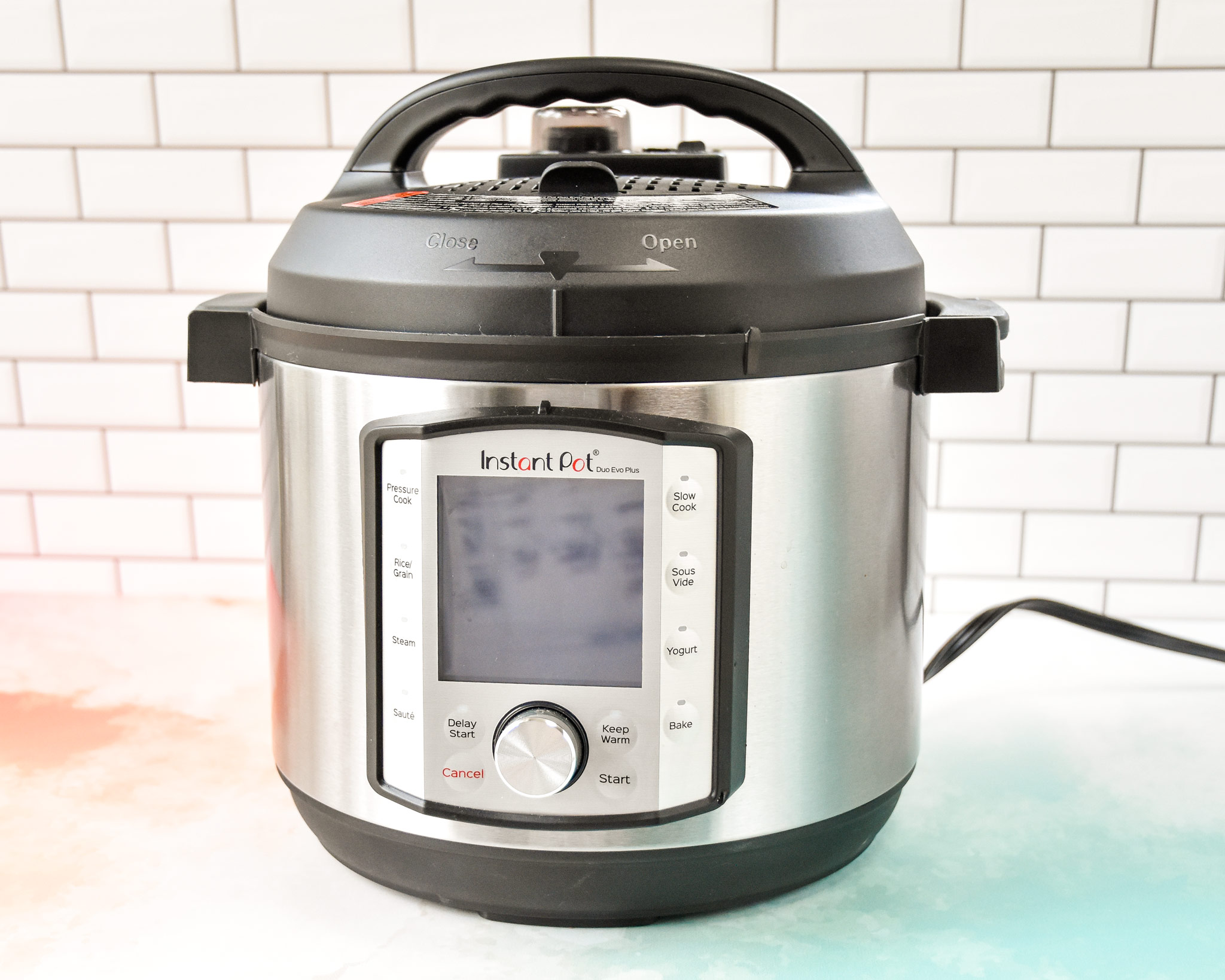 What is it: Instant pots are next generation pressure cookers, and I'm all for it! Yes, it's true that anything you cook in an Instant Pot can also be cooked on the stovetop or oven, but Instant Pot makes it much easier and cuts down the active time for most recipes.
I use an Instant Pot Duo Plus 6 Qt (affiliate link!). If you're cooking for two or more people, I would recommend getting a 6 quart Instant Pot.
How do you use it for meal prep: For me, the best part about the Instant Pot is the ability to set the cook time and walk away to get other stuff done. You don't have to watch the stove top or oven to make sure your food doesn't burn.
It's not 'Instant' because it cooks food instantly – it's 'Instant' because you put food in, leave for a while, come back, and it's done.
You can use your Instant Pot to batch prep soups, proteins and even steam vegetables. Using your Instant Pot to prepare food also frees up your oven and stove top if you'd like to use them for other recipes.
I use my Instant Pot weekly to cook things like hard boiled eggs, chicken breasts, and rice.
Recipes ideas & examples:
Shredded chicken – To make basic shredded chicken for other recipes, place chicken breasts in the Instant Pot liner, add at least one cup of broth or more, then cook on High Pressure for 8-10 minutes (8 for thinner, 10 for thicker breasts). Natural pressure release for 10 minutes.
Hard Boiled Eggs – I prefer not quite fully hard boiled eggs (I want a slightly soft but NOT runny center), so I cook my eggs for 4 minutes high pressure, natural pressure release for 3 minutes, then ice bath.
Honey Garlic Chicken Meal Prep Bowls – This recipe teaches you how to cook rice and a main dish at the same time using the pot in pot method of cooking. Check it out!
Quinoa and Rice – Your Instant Pot can cook quinoa or rice perfectly! It's always helpful to know how to make a couple different grains to go with your meal prep main dishes.
#3. Souper Cubes Trays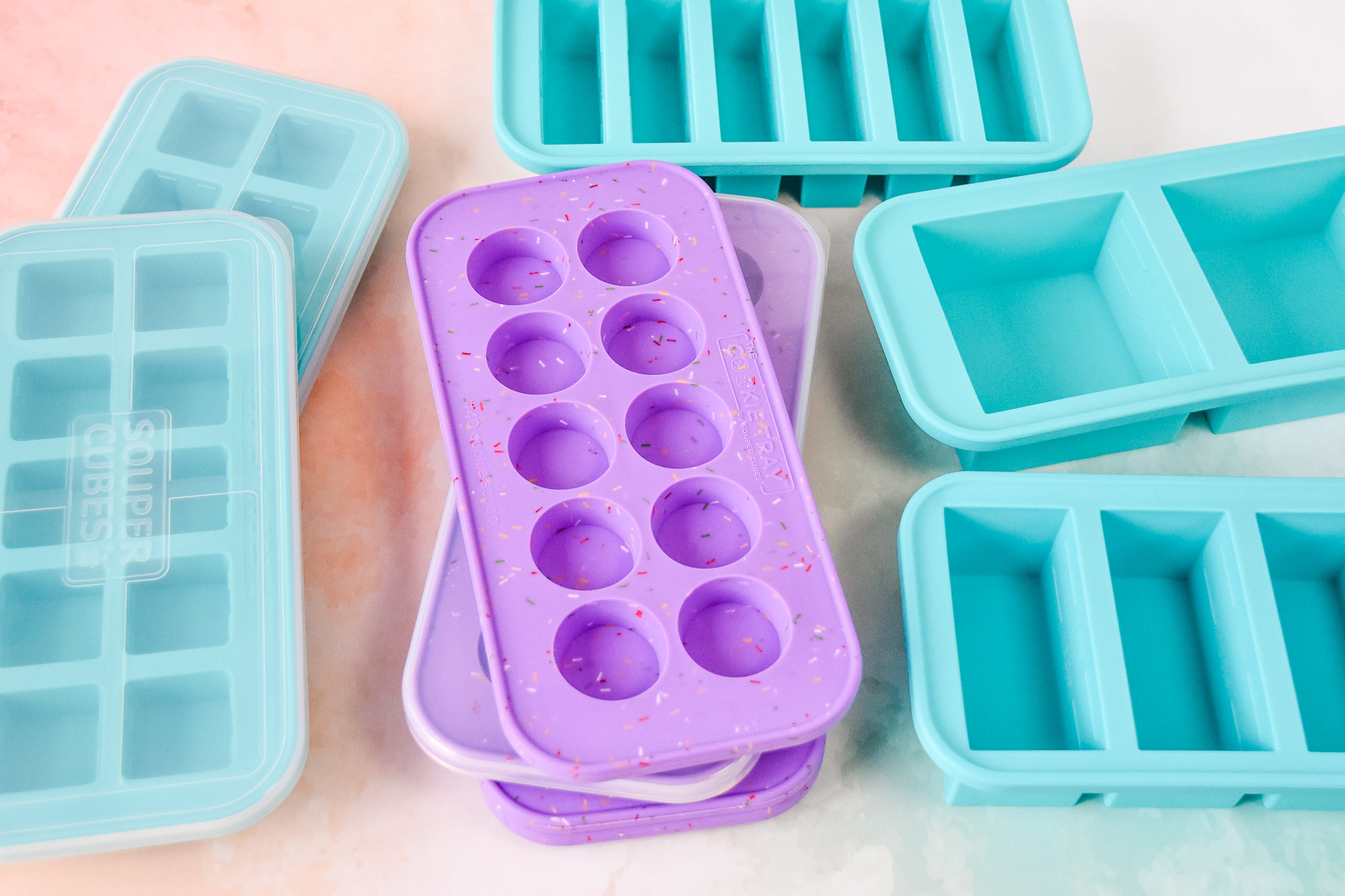 What is it: Souper Cubes are food-grade silicone trays which allow you to freeze perfectly measured portions of food for later. They come in multiple sizes – the ones I use the most are the 1-Cup Souper Cubes Trays (affiliate link!) and the 2-Cup Souper Cubes Trays (affiliate link!).
How do you use it for meal prep: This meal prep tool is specifically made to freeze food for later. Whenever I make a batch of soup, I'll freeze extra portions in the Souper Cubes. This is especially helpful if you're trying to meal prep and eat different meals every day!
Occasionally I'll prepare meals with a main dish and rice, and portion them together in the Souper Cubes (watch an example in this Reel on IG!).
You can freeze almost any leftovers, and Souper Cubes are the best tool to make it happen! The frozen cubes fit perfectly into a freezer gallon Ziploc bag.
Bonus: All the lids are interchangeable and fit any size tray of Souper Cubes!
Recipes ideas & examples:
#4. Stasher Bags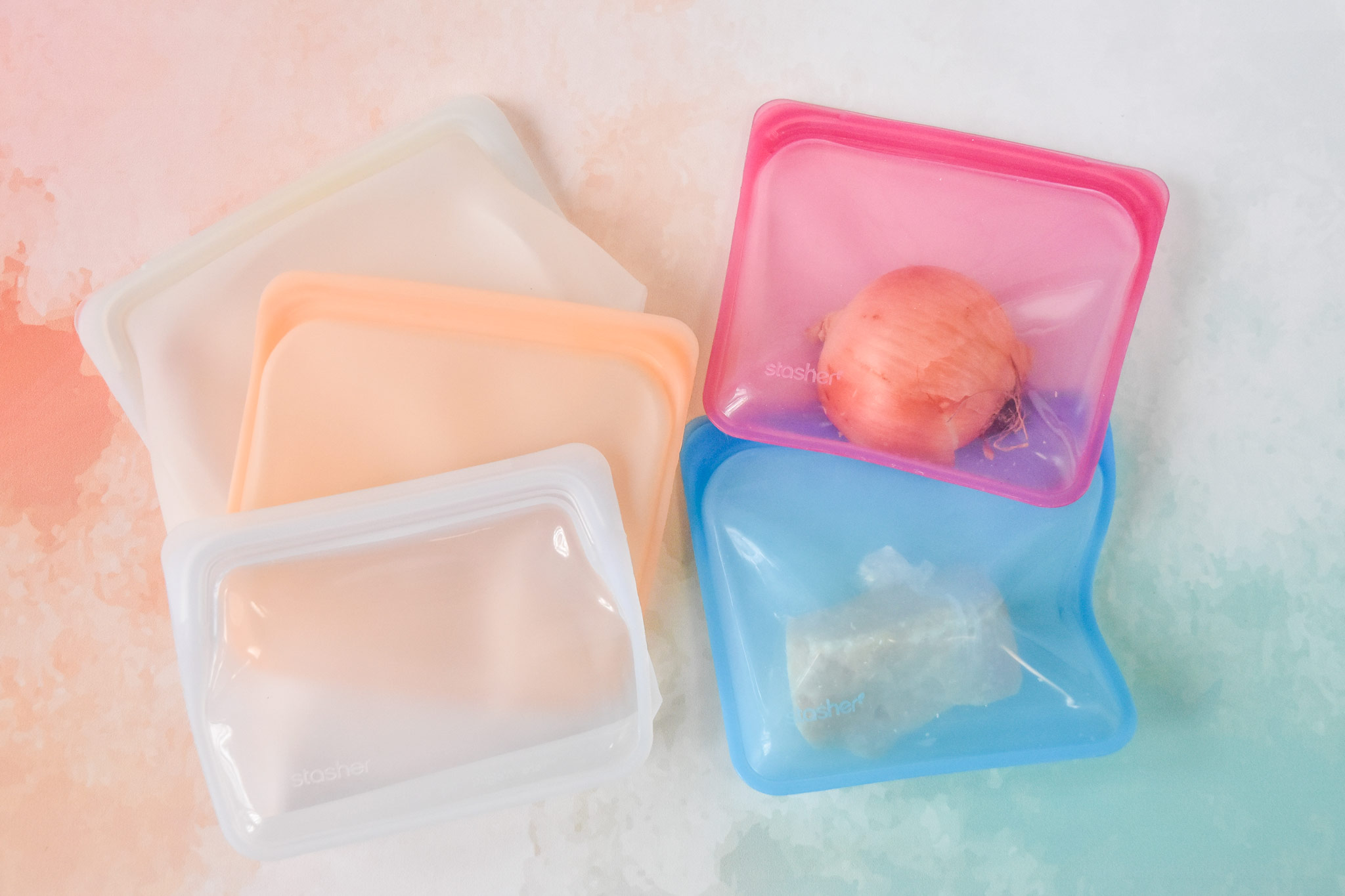 What is it: Stasher Bags are another food-grade silicone tool I keep in my kitchen. Essentially, these food storage bags replace Ziploc plastic baggies and cut down on plastic waste. They come in TONS of colors and sizes – they've greatly expanded their collection in the last few years!
I've been using Stasher bags ever since they sent me a couple for free to try in early 2017 and I wrote a review about how awesome they are.
Since then, I've accumulated around 15 total Stasher Bags, including the original bags they sent me that I still use to this day.
I've purchased almost every size, and several colors! I also give them as gifts during the holidays. That should show you how much I love them.
Check out the massive collection on the Stasher Bag website or on Amazon (affiliate link!). I like to wait for sales – there's always one on Earth Day (April 22) and Black Friday.
How do you use it for meal prep: The main way I use my Stasher bags is to hold leftovers and replace Ziploc bags. Anything from Cut produce to cheese to meatballs. I also use them to store foods in the freezer – sometimes I even store frozen cubes from my Souper cubes in the Stasher bags (double meal prep tool win!).
I've also marinated chicken in the larger standup bags a couple times! These larger Stasher Bags are also a great size for make-ahead meal kits, prepped for the fridge or freezer. Since they can go in the dishwasher, it's okay to use raw meat.
Recipes ideas & examples:
Freezer Chicken Meal Kits – These 7 No Saute Slow Cooker Chicken Recipes can be made in Stasher Bags! This is a perfect example of meal prep with Stasher Bags.
Banana Protein Pancakes – When I make pancakes, it's always a huge batch so there are leftovers for the next couple days. I store the extras in a large Stasher bag!
Peanut Butter Rice Krispie Breakfast Bars – These make-ahead bars would store well in a medium or snack size Stasher bag!
Most snacks can be stored in a Stasher Bag! But personally, if I don't want the snack to be crushed, instead I'll store in it a…
#5. Wide Mouth Mason Jars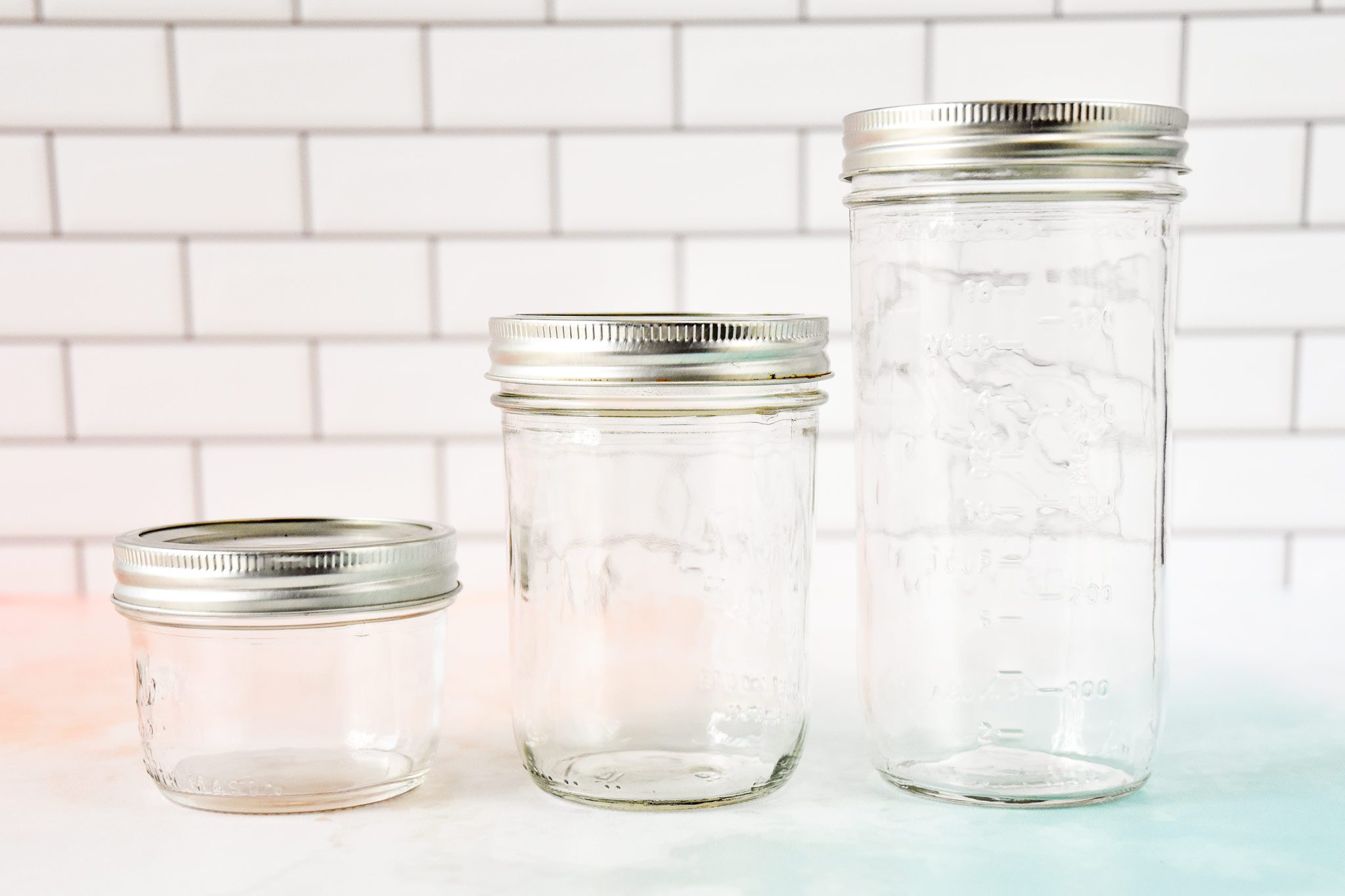 What is it: While mason jars were originally meant for canning and preserving food, you can use them for meal prep and food storage too! These glass jars have specially designed screw thread tops for the band which holds the steel lid in place.
How do you use it for meal prep: The quality lid and band closure on the jars means you get an airtight seal that's good enough to hold your food in the fridge for 4-5 days, or the freezer for several months (with proper precautions). I also like to use mason jars to store snacks that could otherwise be crushed! The glass ensures the food is safe.
These jars also work for storing herbs and produce with a little water in the bottom, no lid needed, as seen in this post called How to Store Fresh Herbs.
You can also prep ahead individual meals in mason jars for easy grab and go convenience – recipe ideas below!
NOTE: I have learned through trial and error that I strongly prefer wide mouth jars. It's easier to fit items in and out, including your hands!
Recipes ideas & examples:
Bonus Tool: HotLogic Mini Portable Oven
I recently did a review of the HotLogic Mini Portable Oven and I was blown away at how well it heats food to 165F, then keeps it hot until you need it. In that review, I go super in depth with testing, photos, and info about the product.
This item is considered a "bonus" meal prep tool because it's not the first thing I would recommend – in fact, I think everything else is a little more useful for overall meal prep routines.
However, there's a certain niche of people I think could really benefit from the HotLogic, so that's why I've included it here. The HotLogic is useful at job sites, offices with no microwaves, in a car or truck, anywhere you have electricity. They do sell a 12V car plug version if you want to use the HotLogic in your vehicle.
What are your favorite meal prep tools?
I'd love to know what tools you use and how they help you in the kitchen, especially during meal prep. Share in the comments below!